Rahmo Sassoon
1912~2009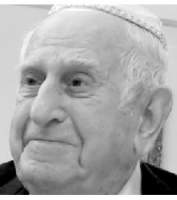 New York Times Obituary

SASSOON--Rahmo, died October 4 at home peacefully in his sleep of natural causes at the age of 97, cared for to the end by Renee, his devoted wife of 58 years. He was born into the ancient Jewish community of Aleppo, Syria in 1912. From 1936-1964, he lived in Japan as an independent businessman, where he founded the Ohel Shelomo synagogue in Kobe, and served as a leader of the Jewish community in Japan during WWII and after. He moved to Manhattan in 1964 with his family where with an open heart and generous hand he continued his life of integrity, honor, wisdom, courage and multilingual wit. He will be deeply missed by his wife and his children, Salomon, Andree and David; their spouses, Evelyn, Jean-Francois and Stephanie; his granddaughters, Nina, Danielle, Lily and Hannah. Much beloved and admired around the globe, he lived a storied life, and with his speech and actions improved the portion of the world he touched.


Remembrance from one of his sons:

Rabbi Abadie, Rabbi Lookstein, family and friends, thank you for coming. My father and we, his family, are honored by your presence.
I have been dreading this moment for some time. Now it has arrived. Even my father, who was 97, could not elude time forever. I hope I can do him justice.
My father was born in 1912 in Aleppo, Syria, a backwater of the soon to be dismantled Ottoman Empire. He died in New York City, the center of the world, in the 21st century. The time and distance traveled, and the journey, are remarkable. I can only skim the surface. In the 1930's, while in his early twenties, my father left Aleppo for Kobe, Japan. The trip then was arduous and took three months by ship through the Suez Canal, the Red Sea, the Indian Ocean, the South China Sea, and the Pacific Ocean. My father traveled into the unknown, leaving friends and family behind. He always loved risk and this time he was quickly rewarded. By the time World War Two began in the Pacific, he was an established business man in Kobe and a leader of the Jewish community there. He spent the war years in Kobe and was the liaison for the Jews of Kobe with the Japanese government. No Jew died on his watch.
In 1945, he saw the sky turn black from mountains outside Kobe in the wake of the atomic bomb on Hiroshima. American soldiers arrived soon after. In 1946, well into the American occupation, an American colonel asked my father if he had entertained the Japanese secret police in his home during the war. When my father replied, "yes," the colonel asked him why he not yet similarly entertained American officers. My father replied that the Japanese had protected his community during the war, and he did not believe it would be appropriate for him to entertain their conquerors so soon after their arrival. Not surprisingly, the American officer understood loyalty, gratitude, and obligation.
Shortly thereafter, my father founded and built a synagogue in Kobe for the Arab Jewish community. He named it Ohel Shlomo after his father. The synagogue still stands today and conducts an Orthodox Sephardic service. When synagogues are closing in New York City, it is quite a testament that his synagogue continues to operate in so remote a place.
After the war, my father decided that it was time to marry and went to Europe in search of a Syrian Jewish wife. He met my mother, 18 years his junior, married her in Italy in 1951, and brought her back to Japan. For the next 58 years, he was a devoted husband and father. My mother was equally devoted and the care she lavished on him accounts for his longevity. The 1950s brought children to my parents and reconstruction and prosperity to Japan. Jewish businessmen streamed into Japan and most passed through my parents' home. One of them was my future father-in-law, who lost Evelyn to my father in a gin game. If you doubt the story, ask yourself why else would she marry me years later? So I have my father to thank for the greatest joy and blessing in my life.
As a father, my father not only seemed old but ancient. He was our bridge to a distant time and place. He had not forgotten the old ways: he would see the ancient wisdom in Hebrew letters, hear ancestral voices in the melodies of the hazan, and recognize the past in the feel of Torah scrolls. He taught us the fundamental values—mostly by example—honesty, integrity, loyalty, duty, generosity, compassion (like his name Rahamim), honor, respect. He then gave us the freedom to find our own paths. In this, he truly gave us the gift of life. In this he was thoroughly modern, even though he never learned to drive a car, and never used a computer, blackberry, or cell phone.
My father was the most successful of his siblings. He was their hero, and they counted on him. He did not disappoint. He supported his mother in Italy, brought brothers, brothers-in-law, and nephews to Japan and into his business, put nephews through university in France, provided an apartment for his sister in Israel, and even paid a dowry for his niece in Turkey. His reach was global when the world was larger and his generosity significant relative to his means. He always believed that God would provide, and God certainly blessed him with a long and healthy life.
My father also had a prodigious memory. He learned the sacred and the secular in Aleppo at an Alliance Israelite school, the forerunner of the Jewish day schools in America and never forgot his lessons. Well into his nineties, he would recite by heart in Hebrew the Tehilim or psalms, and poems in French like Le Cor, a famous French poem about Roland's heroic stand against the Arabs invading France from Spain. Plus ça change, plus c'est la même chose.
My father was also fun loving and mischievous. He even delighted in the pranks of his children. Our Japanese nannies knew not to take us to him for a scolding because he would more often than not break out into laughter.
One last story, because they are endless. When Israel became an independent state, Syria stripped my father of his passport. He traveled for several years on a U.N. laisser passer or on diplomatic passports from Central American countries (which could be acquired for a price). Then, under mysterious circumstances, he acquired an Israeli passport around 1952. He carried an Israeli passport until the 1990s when a zealous bureaucrat at the Israeli consulate in New York refused to renew it because she couldn't understand how he had acquired it 40 years earlier. My father then chose to become American but had to first pass the citizenship test, which he refused to study for (even though they didn't teach civics in Aleppo). I accompanied him to the INS building on federal plaza and was allowed, because of his age, into the examination room, where an INS officer questioned him. The first two questions were easy: what is the capital of the United States? Washington, D.C. he said with a knowing smile. What are the colors of the American flag? Red, white and blue he said with a nod of satisfaction. Then came another easy one, how many United States senators are there? He looked at me and I knew he didn't have a clue. I sneezed and said "hiaku" (which means 100 in Japanese). The look of confusion disappeared from his eyes. He smiled mischievously, said 100 and was soaring and unstoppable.
We had connected, silently and unnoticed, like only a parent and a child can, and I was able to return a small part of what he had given me.
Although he didn't quite get to 100, I imagine my father, my hero, who has shed the body that slowed him down in recent years, once again unstoppable and soaring through the universe.